1,000 horsepower and up to 200 kWh battery.
The electric Hummer pickup will be unveiled towards the end of the year. Now GM shows the silhouette of the car.
General Motors has had to postpone the unveiling of its electric GMC Hummer pickup until the fourth quarter, but in a new commercial they show the car in profile for the first time. From the previous Superbowl launch, we had in practice only seen an obscure picture of the front.
GM also repeats a number of specifications we have heard before, such as that the car will have 1,000 horsepower and over 15,000 Nm of torque. In addition, the video mentions an open «infinity» roof and that the car will have both an «adrenaline mode» and a «crab mode».
Previously, they have also said that 0-100 should be able to go away in as little as three seconds, which is about the same as Tesla's most powerful Cybertruck variant.An SUV variant will also arrive, but it is not yet timed.
An SUV variant will also arrive, but it is not yet timed.
GM «Competitive» range
They also repeat that the car will come with the company's new Ultium battery, which should be able to have a capacity of up to 200 kilowatt hours. They have so far said nothing about the range, other than that it will be competitive with other pickup trucks that have been announced. Tesla's heaviest Cybertruck, for example, will have a range of up to 800 kilometers, while Rivian's R1T is said to have up to 640 kilometers.
The Hummer car will otherwise get «super fast» charging, the latest version of GM's Super Cruise technology for self-driving and a so-called «ultra vision» camera.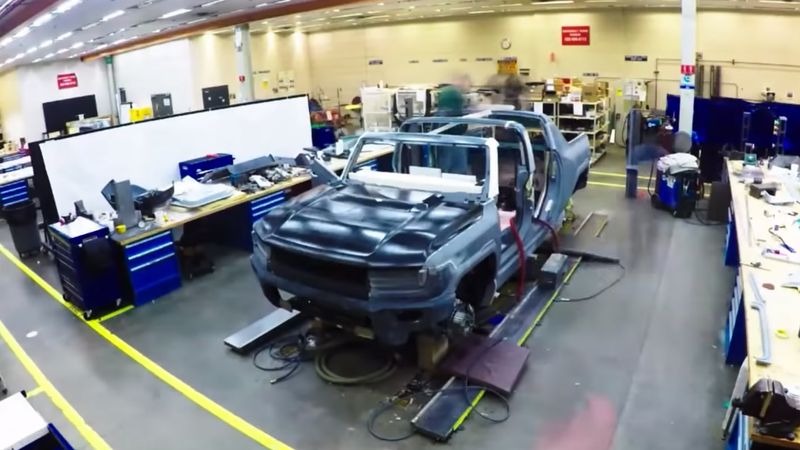 GM
The pickup will now be unveiled in the fourth quarter of this year, and GM warns that they will start accepting reservations at the same time. The car will be in production towards the end of 2021, around the same time as Tesla's Cybertruck. Rivian's model is planned on the road a few months before that.
In addition, there is also a pickup truck in «full size» from GM's own Chevrolet brand, and not least Ford's electric F-150, but it was recently postponed until mid-2022.